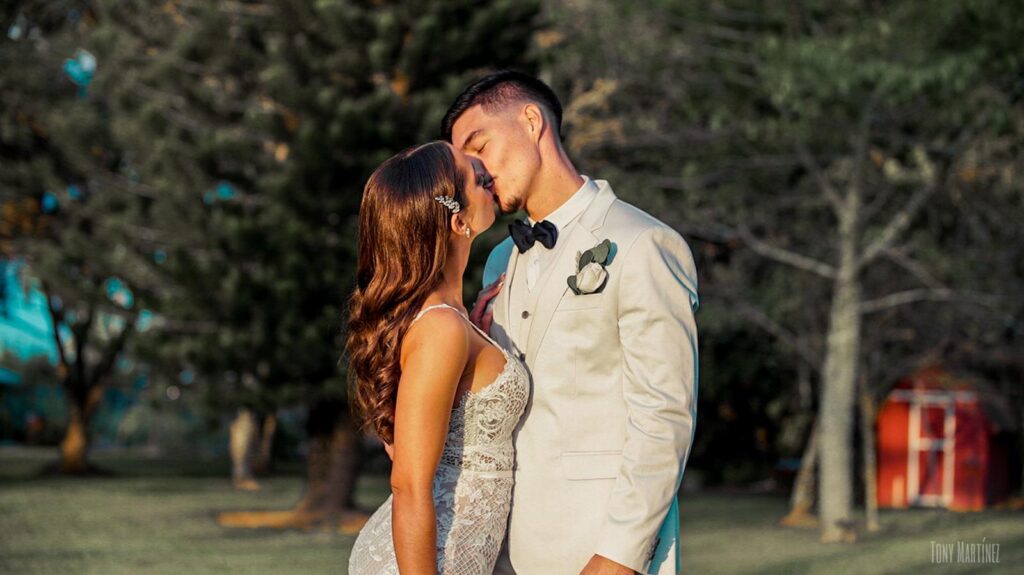 If you just got engaged, your first instinct might be to open Google and type "how to plan a wedding." We don't blame you—planning your nuptials is certainly a big deal, and it's unlike any other party you're hosted before. When you're not sure where to start planning a wedding, narrowing down the first steps can feel downright overwhelming… but don't worry. We've got you covered.
Start Thinking Big Picture
The minute you get engaged, everyone will be asking for your wedding date. In reality, though, you won't be able to set an exact wedding date until other major decisions—like setting your budget—are made. But before you dive into the nitty-gritty details, we recommend thinking about the big picture vision you have for your wedding day. What time of year do you want to host your celebration? What wedding venue style sparks your interest? Are you drawn to intimate, outdoor boho parties, or would you rather have a glam formal affair at a chic city rooftop? How many people do you want to invite? These are key details to consider before you move forward with any decisions. "I always ask my couples to describe their perfect wedding day," says Mary Thornton, founder of Connecticut-based stationery boutique and event planning company Party Party. "Is it casual? Formal? Large? Small? Do you prefer formal and elegant, or do you want a fun, casual dance party? Once that decision is made the other ones fall into place."
Set a Wedding Budget
It's critical that setting your budget be the first step in planning your wedding. It might not be the most fun part of the process, but it's a task that really needs to be completed first because it sets the rest of your wedding planning process into motion. The last thing you want is to fall in love with a venue, vendor, dress, etc., and realize it's completely out of range. So sit down with your parents or other potential contributors to come up with a total budget, and then divide it up by vendor or service accordingly.
Find Your Wedding Vision
Before you try on a single wedding dress or tuxedo, book a reception band or sample a bite of wedding cake, determine the vision for your wedding. While you've already done some big picture ideating, now's the time to really narrow down what you want your day to look like. Is it a candlelit evening in a mansion or a barefoot ceremony on a tropical beach? While you're picturing your perfect wedding, here are some key questions to answer now: Will you have a big or small wedding? Will your party be outdoors or inside? Will it take place at home or at a special destination? Will you choose a specific theme, or are you inspired by a certain wedding style, like modern, classic, romantic, vintage, rustic, or all-out glam?
Choose Your Attendants
Your attendants do a lot more than just stand next to you on the day of the wedding. Now is the time to get them involved. While some couples opt not to have any attendants at all, especially if they're having a casual event, most choose between 2 and 12 members of the bridal party. Look over these lists of responsibilities for bridesmaids and groomsmen before you make your final choices. If they live nearby, it's nice to ask someone in person, but a phone call is fine for those who live far away.
Find Venues for Ceremony and Reception
Many popular venues and even the less conventional options are booked a year in advance, so the further in advance you start looking, the more likely you are to get the time, date, and cost that you've planned for. Get a free quote to book our venue.
Get Support
The successful bride and groom do not plan their wedding alone—they get help. This may be from professionals, respected publications, online app resources, or trusted friends who've planned their own weddings.
Consider hiring a wedding planner or consultant. Especially if you are a busy person, or just feel a little lost, a professional can be invaluable in putting together your ideal day and can often save you money.
Use online checklists. They're free, and especially helpful if you're planning with your mother or future spouse in another state. They'll help you stay on top of all of your important to-dos.
If you're like most couples, you'll come home from the bookstore with a few thousand pounds of wedding magazines—why not throw in a wedding planning book as well?
By now, we've covered the first steps on how to plan a wedding. But here's one planning task you won't find everywhere: Take time to actively not plan your wedding too. Planning your nuptials is a big undertaking; it may as well be the first big test of your marriage. It's a long (but rewarding) gauntlet of compromise, sacrifice, and stress management.
Before your wedding, take time as a couple to do anything but wedding planning. Have regular date nights with no wedding talk allowed. It's more important than ever to prioritize your relationship and continue dating each other. It will help you remember why you're doing all of this in the first place.